The PinpointerReplacement Parts
Underground Cable Fault Locator 
Includes everything needed to locate direct buried, unshielded secondary cable faults within inches…every time!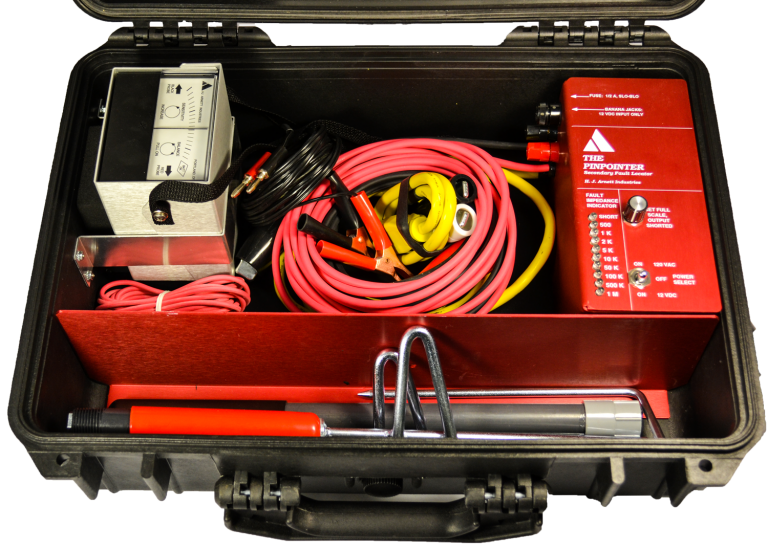 PN: HJA-471
No costly, unnecessary digging:

• Earth gradient method ignores phantom images.
• Highly accurate and reliable – trusted by utilities for over 45 years!
• An economical locator solution. Works in all conditions.
• Cable proof-test instantly determines whether cable is good or bad.
• You don't even need to know the exact route of the cable.
• Easily stored in a utility truck; rugged and durable.
• 2500 VDC Pulse
• Variable sensitivity detector (adjustable)
Turn to the Pinpointer to locate secondary cable faults in direct buried unshielded cable. Accurate to within inches of the fault, even under snow or frozen ground, at street light circuits, at the meter rise, and under driveways, sidewalks, and streets. You don't even need to know the exact route of the cable.
For more than 45 years, the Pinpointer has saved substantial time and money for the electric utility industry. Now featuring more durable housing, the Pinpointer is even better suited for troubleshooters in tough conditions. This user-friendly secondary fault locator was the first to the market and continues to set the industry standard.
Instructional Video:
Included with The Pinpointer:
The Pinpointer Transmitter
The Pinpointer Detector
Detector Cables (Red & Black)
Grounding Probes with Extensions (Red & Black)
2-Wire, 12V Battery Power Supply Cord
2Wire, 120VAC Power Supply Cord
Rugged, Durable Protective Housing
Operations Manual
Optional Accessories:
A-frame Adapter for The Pinpointer (optional)
PN: HJA-470-210 
Make underground secondary cable-fault locating even easier, when you pair the Pinpointer with the A-frame Adapter. The Pinpointer detector easily attaches to the A-frame with two screws and pre-wired banana plugs.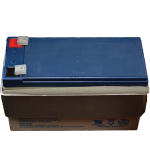 Rechargeable Battery Kit (optional)
PN: HJA-470-109 
If you are out in the field and do not have access to a power source such as a truck battery, you can add an optional rechargeable battery kit to your Pinpointer to power the transmitter.
Pinpointer Applications:
Electric Utilities
Electrical Contractors
Oil Fields
Irrigation Systems – Golf Courses, Agriculture, Etc.

Downloads:
NEW! The Pinpointer just got even better. With more robust housing, the Pinpointer is more durable and suited for your crews out in the field and will not rust.
Photos: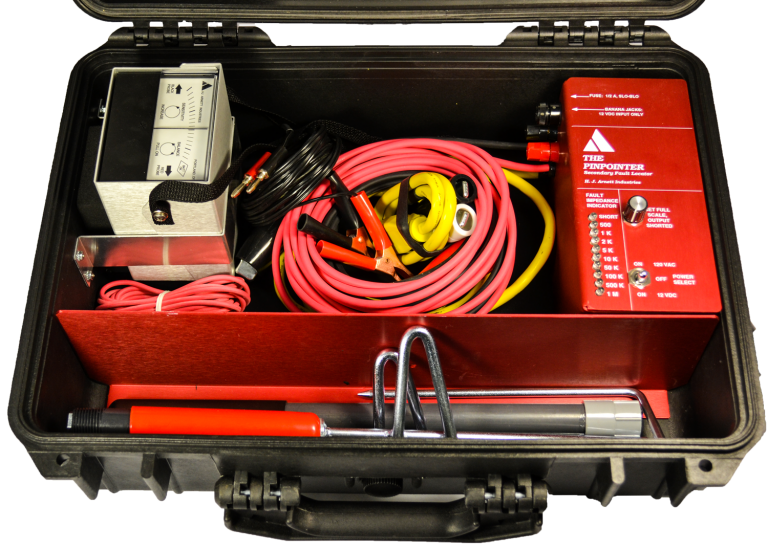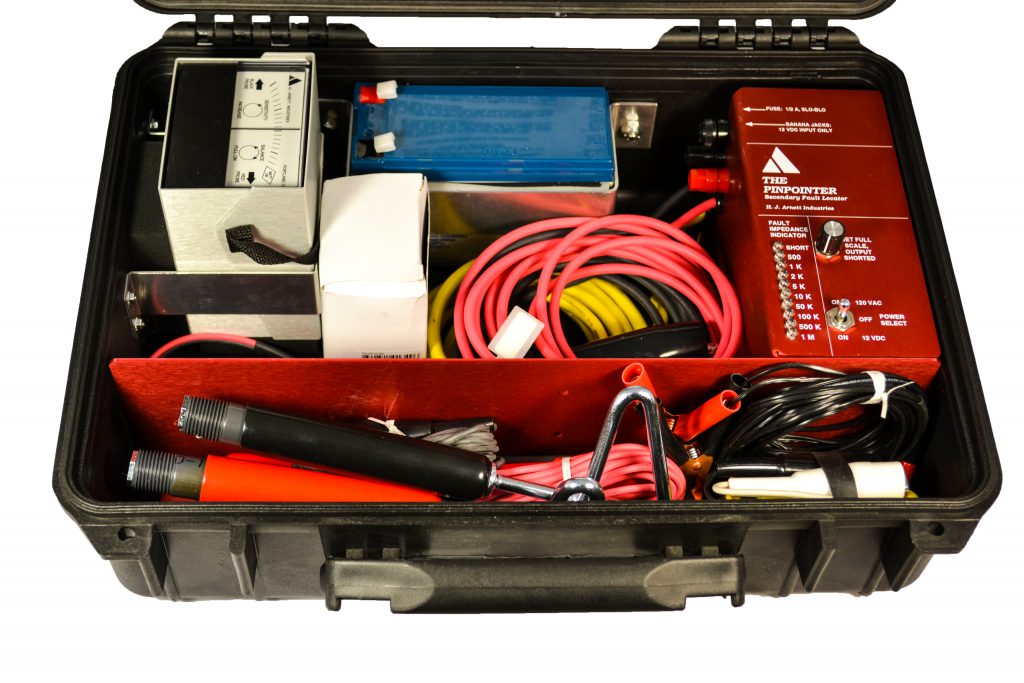 Tags: an underground fault locator; earth gradient fault locator; secondary fault locator; secondary fault finder;  direct unshielded cable fault locator, cable fault locating equipment; cable fault finding equipment; cable fault locator manufacturer etc.
Replacement Parts: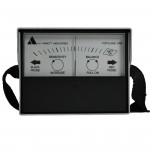 Detector with 9 Volt Battery (replacement)
PN: 470-100
This is a replacement detector for The Pinpointer.
Probe and Cable Package (replacement)
PN: HJA-470-101-HDPKG
Red and Black probes & connection cables

470-101-HDPKG Pinpointer Detector Cables 
Need a part?
Call us at (503) 692-4600
Email information@hjarnett.com